MHA at the 12th Annual Harvard Square Golf Tournament
Mile High Ambulance is proud to have sponsored a hole at the 12th Annual Charity Golf Tournament
The Tournament is put on by Harvard Square Retirement and Assisted Living Community to raise money for Alzheimer's research
The MHA management team spent the day having some fun while helping raise awareness for Alzheimer's disease. It was a beautiful August day and though an official score was not provided, helping the cause was the main focus.
Supporting Worthy Causes In Healthcare Research
Not only does Harvard Square provide Independent Living for our senior citizens in a fun and healthy environment they are committed to healthy living
Just like Harvard Square, Mile High Ambulance takes healthcare and medical research very seriously: in fact patient care is our number one priority. So it was an easy decision to stand behind this excellent event Harvard Square set up for our community. We were humbled to receive the following certificate and warm words from Imelda Sees, Move in Coordinator at Harvard Square: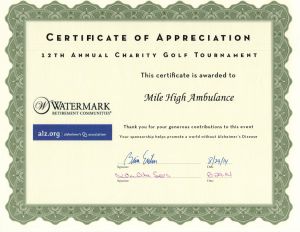 "We would like to take this opportunity to thank you so much for your support with our annual golf tournament. Raising money and awareness for Alzheimer's is crucial. By pulling together hopefully we will find a way to put an end to Alzheimer's. Once again your support is very much appreciated!"
Imelda Sees
Move in Coordinator
Harvard Square Retirement & Assisted Living Community
Consider supporting ALZ.org today
Anyone can get Alzheimer's disease so it is important we help find a cure
Although Alzheimer's is most common in senior citizens age 65 or older, it is not just a disease of old age; in fact, up to 5 percent of people with the disease have early onset Alzheimer's. This can happen to adults in their 40s or 50s. Learn more about the excellent work being done and find out how you can help today.